Kyverno that is installed as a cluster add-on requires an update when a new version is available. The user will be prompted that an update is available. This prompt happens at three locations:
Cluster Summary Panel (Cluster List)
Cluster View
Cluster Tile View
NOTE:
* The update is supported only by the Nirmata-managed Kyverno add-on.
* The minimum Kyverno version for the upgrade is 1.5.8.
* If in case the update fails and partial changes are rolled out, then there is no rollback. The user needs to uninstall and reinstall Kyverno.

To upgrade the Kyverno add-on:
Go to Menu>Clusters. The Clusters page opens.
In the Clusters summary view, click on the Kyverno Update Available button beside the cluster that needs an update.
Or
In the Clusters page, click on the cluster name that will open the cluster view. On this page, a message prompt is displayed stating that a new version of Kyverno is available and to click here.
Or
In the Clusters page, click on the tile view icon on the right corner of clusters. The tile view of clusters is displayed. Click on the Kyverno Update Available button on the cluster tile, for the cluster that needs an update.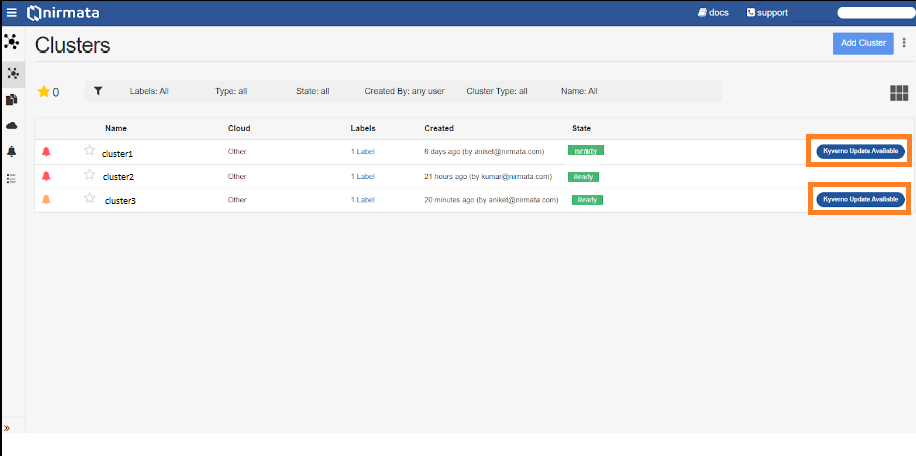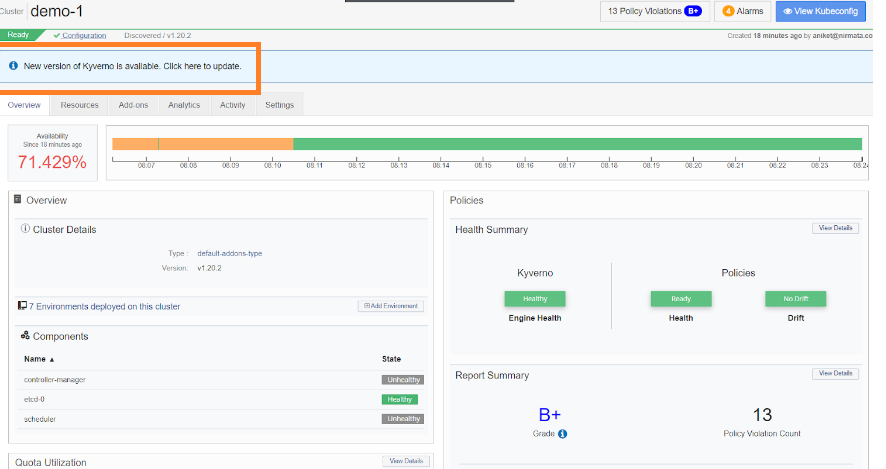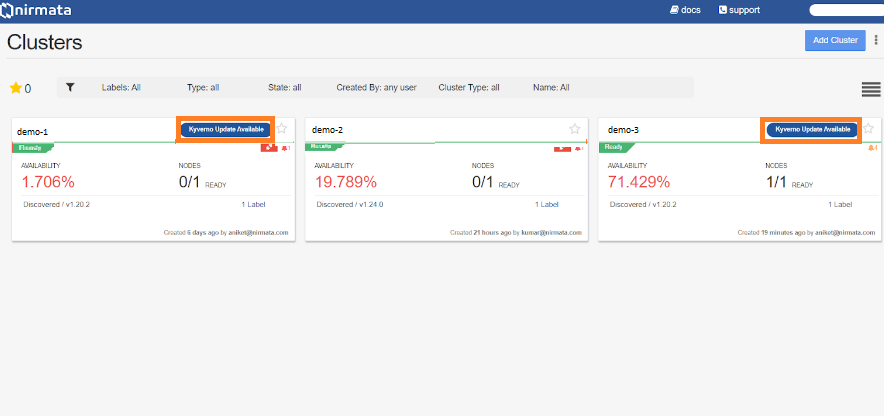 In the Update Kyverno Page, from the Choose Kyverno Version drop-down list, select the recommended version.
NOTE: Nirmata recommends you to upgrade to the next available version of the policy and then progressively upgrade to the latest version.
Click Upgrade. A message stating the Kyverno upgrade is in progress is displayed. A sanity test for the Kyverno upgrade runs in the background and a success message appears stating that the upgrade was successful.
NOTE: As a result of the sanity test, if the existing Kyverno policy is incompatible with the new Kyverno CRDs, the upgrade failure message is displayed with the reason for failure. You can update/delete the related policy and then try the Kyverno upgrade again.